The Guys over at hockeyshot were kind enough to send us some awesome hockey training products for us to review. The first training product we reviewed is the first item you should buy if you want to work on stick handling and shooting; and if you use our coupon (bottom of page) you get $10 off orders over $100, plus we get a bit of money to help pay for pucks (everybody wins). This is our review of the pro hockey shooting pad
The hockey shooting pad we are reviewing is 60inches x 30inches, 3/16 inches thick. When I first got the shooting pad I thought, wow that's big! I was used to shooting off of a small piece of synthetic ice so I couldn't wait to test out a big one. First I gave it a thorough inspection.
Cheapo Alert – Some people are using home made shooting pad alternatives. I have tried to make my own shooting pad, and the biggest problem I have is that they crack VERY easily. If you are going to practice a lot (especially if you plan on taking slapshots) save yourself some time and money and just get a good product from the start.
First look at the hockey shooting pad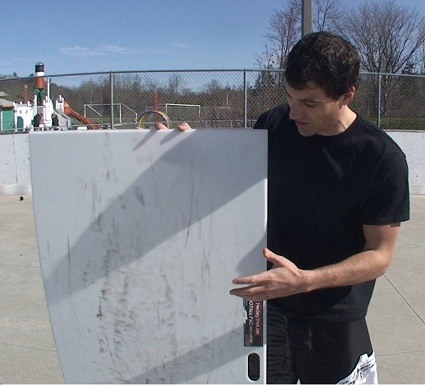 I like the size of the pad, with a smaller pad I was fairly limited to what I could do. For younger players a small shooting pad is good for shooting and a bit of stickhandling, but if you are older you will find you run out of real estate fairly quickly.
Friction
I ran my hand down the surface and it felt very smooth. I grabbed a puck right away (not hard to find at my house) and slid it back and forth, the result? the sticker says "feels like ice" well, it isn't cold, but that puck sure does slide nicely.
Thickness
This board is 3/16 inches thick, sounds thin but it is actually pretty solid compared to other shooting pads. The first shooting pad I bought as a kid was a lot thinner, I used it quite a bit and after three years (when it went missing) it was still in great shape, so a thicker pad should last decades. The material used for this shooting pad looks very durable, which means it should last A LOT longer than that piece of warped plywood you have been shooting off of 😉
Portability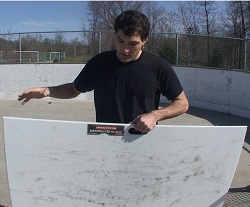 For such a big shooting pad it is still fairly portable. It comes with a handle which makes moving it a lot easier. You can easily tuck this board away, and pull it out when you want to improve your hockey skills.
If you want to take it to the park or a friends place, you would be fine with a truck, van, wagon or SUV, even a car with fold down seats might work. I did have some trouble getting it into my car, although it is a two door.
The pad is also a great way to reduce wear on your blade. I went through a lot of sticks and money when I used to practice shooting right off the pavement or asphalt
Size
Junior – 24 inches wide by 48 long and  1/8 of an inch thick
Intermediate 28 inches wide by 52 inches long and 3/16 of an inch thick
Professional shooting pads which are 30 inches wide by 60 inches long and 3/16 of an inch thick.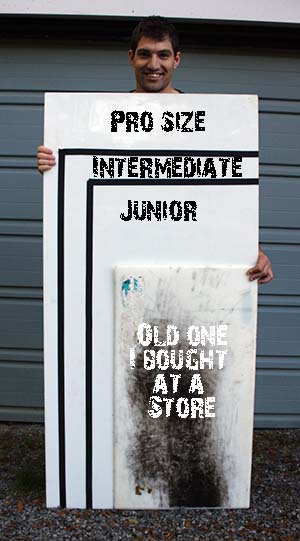 Taking it to the street
This would not be a real review without us using and abusing this board. We took the hockey shooting pad to an outdoor rink. We also shot this video that shows us testing the shooting pad.

we were really mean to it. We took about 1000 slapshot, tested it for stick handling and shooting and it definitely did exactly what it is designed to do.
The result?
Stickhandling

The pad is great for stickhandling with a normal puck, the puck will flip up from time to time, but the better you are at stickhandling the less times the puck flips up ( great way to get nice soft hands) You could also use a stick handling ball or puck alternative like the green biscuit for an even smoother ride (also available at hockeyshot)
There is lots of room to practice dribbling ( moving the puck quickly back and forth) and wider moves. There is also a lot of room to practice toe drags, and even room to put down some obstacles to stick handle around.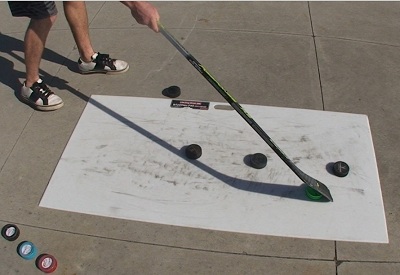 Shooting
The hockey shooting pad is great for… Well…shooting!
Wrist shots – If you are going to practice shooting on a regular basis I definitely recommend this pad (60 x 30 hockey shooting pad). The pad gives enough room for a full wrist shot, and then some. I find with smaller pads I was not practicing proper wrist shot form because I did not have enough room to pull the puck back, step into it, and then really rifle it at the net.
Slapshots – A big pad is great for slapshots as well. The shooting pad is fairly wide so I like put the wide side facing the net and then line up a row of pucks. This allows me to take a bunch of shots without resetting after every shot.
Durability
We beat this thing up quite a bit and it definitely stood up nicely. We hammered close to 1000 slapshots at full power and the only marks on the board were from hockey tape, which can easily be wiped off (you know, if you are into cleaning). I think the board will take a fair amount of abuse, which means it is going to last a very long time!
Overall Thoughts
This is definitely a great tool to have if you want to practice and improve your stickhandling and shooting. The hockey shooting pad is probably the closest you can get to real ice, at a very reasonable price. I get the itch to play hockey a lot and I find just having the board around motivates me to practice more, because it is the closest thing I have to shooting and stickhandling at the rink.
If you want to buy a hockey shooting pad visit hockeyshot.com and use this coupon HOWHCKY001 for $10 off orders over $100