I commonly get asked about the best way to prepare for hockey games. There is a lot to cover with pre-game preparation and as each player is unique there is no "perfect" method, however there are many best practices and tips that will help everyone.
When it comes to preparing for hockey the biggest areas you should know about are nutrition, physical prep, and mental prep. At a young age preparation is important to prepare hockey players for games and also help them create good habits. For competitive hockey players proper preparation is very important as every little edge can help make a difference in the game. For recreational hockey players preparation will help reduce injuries, improve performance, and also reduce soreness after games. I will break down the points above in more detail below the video.
How the G24 app and website works
What I like about the app
I really like this app because it provides a very good base for pre-game preparation. It provides a lot of information about nutrition, physical prep, and mental prep.
I also really like the insight from the pro's. Sure they don't have all the big-name players, but every pro gives good advice and these guys are playing the most competitive hockey in the world.
How to access the content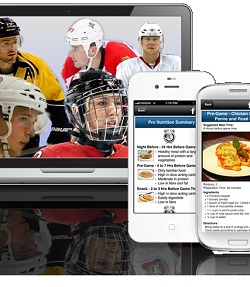 You can access the content through their app, or through their website. The app is only available on Apple products, however you can create an account on their website and access all the content on any device with an internet connection.
Is the app free?
Yes the app is free, and so is an account on their website, however to get access to the pro advice you will have to pay. The players are $5 each or you can pay for unlimited access for 6 months or 1 year which works out being much cheaper.
Downsides to the app
I love the information and the app so finding a downside was tough. Some might find the price of each player a bit costly, but you can get the yearly subscription.
Something else I noticed is that some advice from the pro's might not carry over to the rec or minor league player. For example many players suggest eating a full meal 20 minutes after a game with Salmon and vegetables, however I'm lucky to get home by midnight after some games and I'm not about to prepare and eat a full meal at midnight.
I found all of the information very informative, and you can use as much or as little as you would like depending on how seriously you take your games. I think most rec level players will benefit the most from physical preparation and stretching.
Where to get the App / Content
If you have an Apple mobile device you can download the app here. If you want to access the content through your computer you can visit the G24 website and create an account.
More Information about Preparing for Hockey
Be sure to follow this blog as I will be posting a detailed article about hockey preparation very soon.
I recently read a great book about mental preparation for hockey games. The book is called hockey tough and is written by a sports psychologist who has worked with many of the great hockey players in the game. I found a lot of great tips in the book and highly recommend it to any player who wants a very detailed breakdown of mental preparation.
Preparing for hockey Games
Physical preparation

Getting enough sleep
Activating the muscles used
Stretching and Warmup
Cool down

Mental prepartion

Mental rehearsal
Self confidence
Focus
Goal setting

Nutritional preparation

Pre game meals
Pre game snacks
Hydration
Post game meals
If you have full access to the content you can work your way through each section of the app and learn about how the pro's prepare in each area. You can also star your favourite areas and add them to your own profile. You can use those tips to build your own pre-game routine.
Many of the areas have video content from the pro's. This is especially helpful in the stretching and dynamic warm-up sections. The nutrition section has recipes and pictures and the mental prep section has video advice from the pro players.
For more details about the app watch my video review above and if you want to create an account you can download the app here. If you want to access the content through your computer you can visit the G24 website and create an account.