Looking for a gift for a hockey player, or want to see what sweet gifts you could ask for this year? Check out this post with the best gifts for hockey players. Every year I compile a list of the best gifts for Hockey Players. I have been playing hockey since I was 4 years old and eat and breathe hockey. Some of the items are timeless and have been the same every year, others are completely new, and others have been updated.
In no particular order, here are the best gifts for Hockey players for 2012
An outdoor hockey rink
This has been at the the top of the list for years because it will create the most memories! Every year I looked forward to skating on our backyard pond and I have so many fond memories of playing hockey outside with friends and family. I wouldn't be nearly as good at hockey if it weren't for my backyard rink.
Build your own: check out our blog post on how to Build your own backyard rink
Buy a Kit: They have kits available on Hockeyshot.com use the code HOWHCKY001 for $10 off! You can also browse Nicerink.com for a wide selection of rink sizes. Their kits include brackets and liners. You can order boards and a handheld "Zamboni" as well.
A few Goals!
Every hockey player loves to score goals, just imagine if you could give your kids some goals for Christmas! Well technically you can't, but you can give them my new Goalie Buster training course that will teach them 2o different ways to deke a goalie, as well as how to read a goalie, moves to use on their shooting side, backhand side, and straight on, and much much more. I have put together over 2 hours of on-ice training breaking down how to beat the goalie! The moves are all broken down step by step and explained in detail. This is something that you can buy once, and the child will have (and use) forever!
Where to buy: Check out the Goalie Buster homepage to join the team, just remember to keep the username and password so you can give it to your child on Christmas day!
NHL 13

With the NHL lockout this is the closest we will get to watching a real NHL hockey game. NHL 13 is the newest hockey video game out this year by EA sports and they have delivered another hit! The top video game review sites have all given it a 9+ rating out of 10 and every year they make great games. If your hockey player has an X-box or PS3 you should get them this game
Where to buy: Get it on Amazon for $49.99 (Canada link) and free shipping (make sure you pick the right system!)
Hockey Training Aids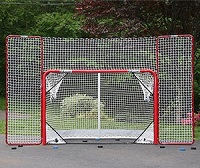 Without a shooting pad and a net my shot would be brutal! I got the net for Christmas and I bought a tiny little shooting pad for $40, I spent hours up in my barn working on my shot. There are a lot of training aids available but below I will link to my favourite ones!
use the code HOWHCKY001 for $10 off any order of $100 or more on HockeyShot.com
EZ-Goal – The frame is very durable, but the mesh is the same as all the other hockey nets, it will rip after you take enough shots. If your netting rips order some fishing net off Amazon and lace it to the back. What is nice about this net is it folds up for easy storage, and you can order a backstop with it as well!
Roll-up Shooting pad – This is MUCH bigger than the little shooting pad I used to use, and much better. The roll-up pad (which is difficult to actually roll up) comes in 4×8 or 5×10 which gives you A LOT of room to line up pucks, practice some new moves, or even work on passing and one timers with friends. Every kid I know who has one of these loves it, heck I'm 27 and I use mine when I get the itch to shoot some pucks, or dangle a little. The surface is smooth so pucks will slide great on it, and it wont damage the bottom of your stick like cement.
Radar Gun – This would be the ultimate gift for a kid. Hockey players are always bragging about how hard they can shoot, and they are always lying! This radar gun displays how fast (in MPH or Kilometers) you can shoot the puck. I have been using it for over a year now and have had great results. it's a great training tool because it gives instant feedback and allows players to see how much they are improving. For more info you can check out our Hockey radar gun review
Pucks – You know what every hockey player needs?…. MORE PUCKS. It's not fun shooting 5 pucks, getting them, shooting them again, etc, the more pucks the better. Pucks usually cost about $1 a piece, so drop around $50 and get enough pucks to last a few years
A Goalie– Shooting on an empty net kind of sucks! When I was a kid I made a goalie with a skill saw and a sheet of plywood, it didn't last long but I had a lot of fun breaking it! Most kids don't have or know how to use a skill saw… Luckily you can buy some pretty durable targets these days that look like a goalie. It's more fun to shoot and your hockey player will learn how to pick the corners.
Swag
Hockey players like to look good, who doesn't! Luckily there are some great clothing companies out there who make clothes specifically for hockey players. The two most notable companies are Sauce Hockey and Gongshow Gear. I have a few shirts from both companies and they are top quality. Another great company is Scrappers hockey, I have two of their shirts and wear them all the time, my favorite is the brain bucket shirt to the right.
Where to Buy: Scrappers Hockey, Gongshow Gear, Sauce Hockey
Rockem Sockem 24
This is something I look forward to getting every year, I've got 1-24 on VHS and now on DVD. In fact the old videos are the only reason I still have a VCR, so what is it? Every year Don Cherry puts out an hour long highlight reel of the past season of hockey. It's got the best hits, goals, plays, dangles and saves taken from every game. He also does a re-cap of the playoffs and shows the road to the cup (a must have DVD for LA Kings fans who won the cup last year). It's a great way to re-live the best plays of the season.
Here is a quick preview of RS24

Where to buy: You can pick it up at most big box stores in Canada, and for only $12.99 you can order online via Amazon.ca
or if you are ordering from the states visit this link for Amazon.com
Team Apparel
I love wearing anything to do with hockey, t-shirts, sweaters, hats, if it's got a Team Canada logo or Toronto Maple Leafs logo I'll wear it! The problem is I'm cheap so I usually only buy t-shirts or a toque. Since winter is coming a toque or sweater with your hockey players favorite team logo on it would be a great gift! Maybe I will buy myself a team Canada sweater for Christmas 🙂
Where to buy: Local sports stores are a good place to look for a good selection. You can also browse on Amazon (just search for your team) and you might find some good deals. My girlfriend bought me the knit maple leafs toque in the link above and I wear it all the time.
The Gift of Skill
Every hockey player wants to be better, they want to score more goals, pull off sick dangles and deke people out. When I was 14 I saved up $100 and bought a VHS set called stickhandling beyond belief by Sean Skinner. I practiced all kinds of new moves and within a few months I had people telling me how I have improved. To this day I still use a lot of the moves I learned. This inspired me to start How To Hockey to share skills with others and also develop my Complete guide to stickhandling. The guide will prepare players mentally and physically to develop total control of the puck and be better hockey players. I include an 18 page e-book and 30 minute training video, if your hockey player doesn't improve or learn anything I will give you a full refund.
Where to buy: You can order my stickhandling guide here (note: it is a digital product, all the training material is made available after payment so keep the private link handy to give to your hockey player)
You can also order stickhandling beyond belief on Amazon
New Gear
Every hockey player has some dirty old piece of equipment that is falling apart, worn out, or just plain stinks, whether it's hockey pants, a helmet or a new hockey bag there is something that could use replacing.
Kids and Adults love getting new hockey gear for Christmas, when I was a kid most of my equipment came in the form of a Christmas gifts. The parents have to buy it anyways so you might as well pass it off as a gift right! The easiest thing to buy is a hockey stick, just take your kids to the store and they will tell you which ones they want!
If you are buying for an adult you can look at the stick they currently use, that will give you an idea of what curve, company, and flex they like. Some of the hot sticks this year are the Easton stealth RS, Easton Mako and the Bauer Total One. These are top end sticks though and run about $300 each!
Where to buy: Head to your local hockey store or you can shop online at hockeymonkey.com
Hockey Books
If your player likes to read then a Hockey Book might be a good gift. I'm not much of a reader but I do like to learn and I have found a few great books about improving hockey skill and understanding. A few friends of mine have also recommended some of the autobiographies written by former pro players.
Hockey plays and strategies (USA link) – Great for coaches, hockey parents and good for players as well. A great book for understanding the game and what you should be doing out on the ice. Some stuff is more advanced, but there is a lot of good info in here. It's the type of stuff you will want to photocopy and hand out to your hockey team!
Complete Conditioning for Hockey (USA link) – I read the first version back in high school and learned a lot about conditioning and nutrition. This is the updated version with new workouts and new information, it's great for any kid or adult who is serious about being in shape for hockey!
The Game by Ken Dryden, The boys of winter – These are a few of the most wished for hockey books in the US and both have A LOT of 5 start reviews. I've heard a few guys say the Ken Dryden book is amazing, and I have seen it recommended online, I have been meaning to pick it up.
Hockey Stocking Stuffers
Since stocking stuffers (hockey tape, pucks, etc) don't really change that much I have decided to write an entire post about the best stocking stuffers for hockey players. I will update it each year with anything new that I find.
Win a Hockey Christmas Gift from How To Hockey and our Friends!
I wish I could give a gift to every reader of How To Hockey, but Santa Claus is busy as it is! We have teamed up with our friends to provide a number of Christmas gifts for our readers, check out the prizes below. 20 prizes in total
Scrappers Hockey – Two prize packs – These guys make some beauty hockey apparel, they are giving away two prize packs. Each winner will receive 1 shirt and 1 hat from Scrappers Hockey
How To Hockey – 10 prizes – I am giving away a minimum 10 copies of my complete guide to stickhandling
Goalie Buster –  I recently released the Goalie Buster training series. I will be giving away two memberships to this training course
Hockey Shot– 6 prize packs in total

1st prize – Extreme Passing Kit, Flypuck, T-Shirt
2nd prize – Roll-up shooting pad, Green Biscuit, T-Shirt
3rd prize – Pro sized shooting pad, Flypuck, T-shirt
4th prize – Intermediate shooting pad, Green Biscuit, T-shirt
5th prize – Super stickhandling package, T-shirt
Bonus prize – Mini sticks hockey net set
How to win
Just like this page on Facebook (using the link below) and then leave a comment letting us know what hockey related item you want for Christmas! If you see anything you like on this page you can share it on your friends or family's wall as a hint 😉